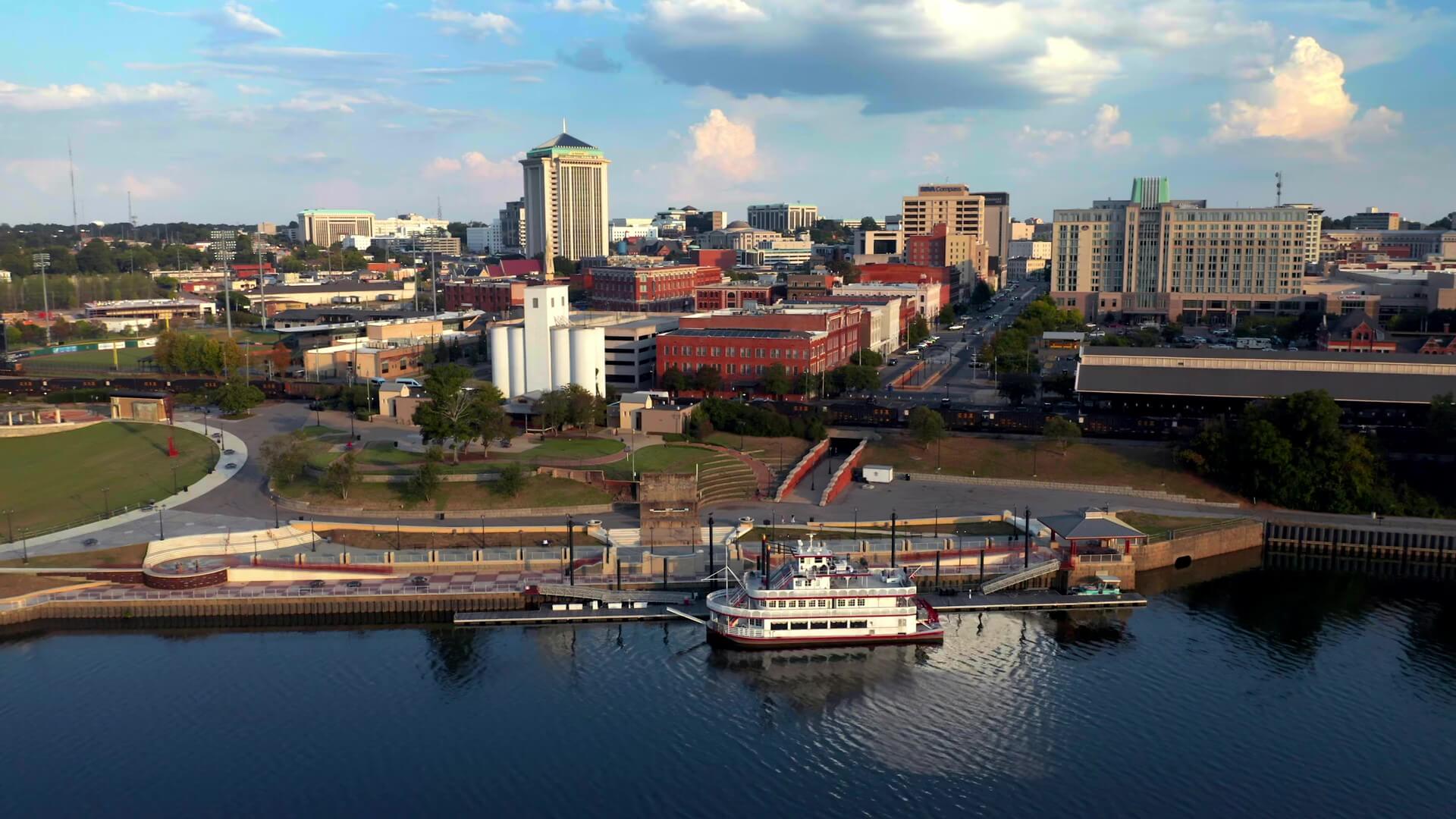 Principal
Kendall Dunson
Montgomery, AL
About Kendall
Kendall handles product liability, general personal injury and workers' compensation cases involving defective industrial machinery as a member of Beasley Allen Law Firm's Personal Injury and Product Liability Section. He has worked on numerous cases to compensate clients for their losses and influence corporations to design and manufacture safer products.
Background
Kendall says he was inspired by law from two sources. One was a legal television series popular in the 1980s called "L.A. Law," which initially piqued his interest in the legal field. As he began to explore the field, Kendall says he realized the importance of the court system to the Civil Rights movement. Landmark court cases decided by the Courts in that fight were a major inspiration to his pursuing a legal career.
Kendall is married to Samarria Munnerlyn Dunson. Samarria was elected as a Montgomery Municipal Court Judge in 2020. Previously, she served as director of the Office of Compliance and Ethics for the Alabama Department of Public Health. Kendall and Samarria have three children.
In his spare time, Kendall is an avid golfer and reader. He loves science fiction TV shows and movies. He says he is also forced to watch more Nick Junior and Disney Junior than he cares to admit at the behest of his daughters. He and his son enjoy watching and discussing professional wrestling.
The Dunsons worship at both First Baptist Church and Resurrection Catholic Church.
Notable Cases
Ford Explorer Rollover Injury
Most recently, Kendall was part of the team that secured a $151 million verdict for Travaris "Tre" Smith who was left paralyzed after the 1998 Ford Explorer he was riding in crashed and rolled over. The jury agreed with Smith in finding that Ford failed to meet its own safety guidelines for the Explorer's rollover resistance requirement and attempted to cover up the vehicle's defective design.
Other Multimillion Dollar Lawsuits
Kendall has also been involved in several other multimillion dollar lawsuits, including a $24.75 million verdict in a premises liability case; an $18.79 million verdict in a commercial truck product liability case; a $5.75 million verdict in a maritime lawsuit; and a $4.7 million verdict in a seat belt failure case. He and his Beasley Allen law partner Mike Andrews also secured an $8 million jury verdict on behalf of a woman who was seriously injured when her Volkswagen suddenly accelerated out of her control and crashed.
High Impact Cases
Kendall was a member of the trial team that handled a wrongful death case against a corporate defendant resulting in one of the largest jury verdicts in Selma, Alabama. That suit influenced the corporate defendant to outfit its entire fleet of trucks with audible backup alarms. He also handled the suit over a bus collision case in Huntsville, Alabama, that caused the death of four students and numerous injuries. The suit resulted in the cancellation of the contract between the county and the defendant, which had the duty to safely transport students to school in Madison County.
Working with co-counsel, Kendall handled a wrongful death claim against a Murphy Bed maker and RV manufacturer. A defectively designed Murphy Bed closed, trapping two occupants inside and leading to the death of one. Before our client's fatal incident, the manufacturer knew of at least three prior similar incidents and failed to address the hazard. Even before Kendall resolved the litigation, the RV Industry Association (RVIA) approved a change to NFPA 1192 by requiring RV manufacturers to add "a self-acting latch or mechanism that will secure the bed in the deployed/down position until the bed is purposefully moved to the stored position." The new safety standard incorporated the design change our client said should have been in use when the Murphy Bed was first sold.
Kendall also helped secure a $4.5 million award (with 49% apportionment) for the daughter of a man tragically killed while operating an M6 Avalanche street sweeper. The sweeper's improperly guarded switches for its conveyor/elevator/hopper made the system vulnerable to inadvertent activation, which led to our client's gruesome crushing death. Unfortunately, during litigation, another individual in Mesa Arizona was injured and killed while operating another M6 Avalanche street sweeper. Before that litigation went to trial, the defendant changed the design of the controls to add a guard to prevent inadvertent activation. This design change, as suggested by the plaintiff's expert mechanical engineer, will prevent additional deaths in the future.
Professional Associations
Kendall has served as the president of both the Alabama Lawyers Association and the Capital City Bar Association.
He was inducted into the American Board of Trial Advocates (ABOTA) at the Alabama Chapter's annual meeting on Nov. 16, 2017, completed a term as a Board member for the National Bar Association, and was named a 2017 Alabama Law Foundation Fellow.
In March 2019, Kendall was also inducted into the American College of Trial Lawyers, a premier professional trial organization in North America comprised of preeminent trial lawyers from the U.S. and Canada. Fellowship with the college is by invitation only.
In addition, he served on the Board of the Montgomery County Bar Association until he was elected to the Executive Committee. Kendall is also past president of the Montgomery County Bar Association and has the distinct honor of being its first African-American President.
He is a member of the Alabama State Bar and serves on the Client Security Fund committee, a position appointed by the State Bar President. He served on the Alabama Curriculum Committee for the Board of Examiners, where he authored the new Tort Section and videotaped the presentation to be viewed by all taking the Alabama Bar Exam.
Over the years, he has participated in numerous legal and community organizations, including a task force charged with reconfiguring Alabama's method of rendering legal services to the State's underprivileged population. Kendall is a charter member of the 100 Black Men of Birmingham.
Awards and Recognitions
Kendall was selected as Beasley Allen's Litigator of the Year in 2013, and again in 2015.
In 2014, Kendall was recognized as our firm's Personal Injury Section Lawyer of the Year.
He also has been selected for inclusion on the Best Lawyers in America list since 2016 and the Midsouth Super Lawyers list since 2012.
Kendall has been named to the Lawdragon 500 Leading Lawyers in America as well as LawDragon 500 Leading Plaintiff Consumer Lawyers lists. The Leading Plaintiff Consumer Lawyers is a list of the 500 best attorneys across the nation in this category.
Publicity
Featured Quotes from Kendall Dunson

I am most proud of my ability to help people, especially those people who have been injured through the fault of product manufacturers. A catastrophic injury can dramatically change a person and their family's lives. It is good to know that we can help people with at least one aspect of their recovery. You can't replace a body part of a loved one, but you can ease the burden by explaining what happened, obtaining a financial recovery to facilitate their 'new normal' and by influencing change for safety through litigation. I often find that clients are more satisfied when they know their litigation was instrumental in fostering safety changes so they will know that another innocent person won't have to suffer as they are.

I believe Beasley Allen's goals and purpose sets it apart from other law firms, in that the firm's mission statement of "Helping those who need it most" is not just a slogan, it's who we are and what we do. It is most interesting that Beasley Allen consists of a group of lawyers who could easily be independently successful in other places, but stay together by choice. I believe Beasley Allen is a strong firm because the lawyers lean on each other, help each other, and support each other as they all strive for a greater good.
Education
Kendall grew up in LaGrange, Georgia, and graduated with honors from LaGrange High School in 1989, after serving his senior class as president. He earned a degree in Corporate Finance from UGA on a full scholarship. Among a host of UGA honors, one of his most treasured honors was being elected president of the Zeta Iota chapter of Kappa Alpha Psi Fraternity, Incorporated.
A recipient of the Calloway Scholarship, Kendall is a graduate of the University of Alabama School Of Law and is licensed to practice in both Alabama and Georgia.
Our firm recently settled a case in which an Alabama employee was killed when a…