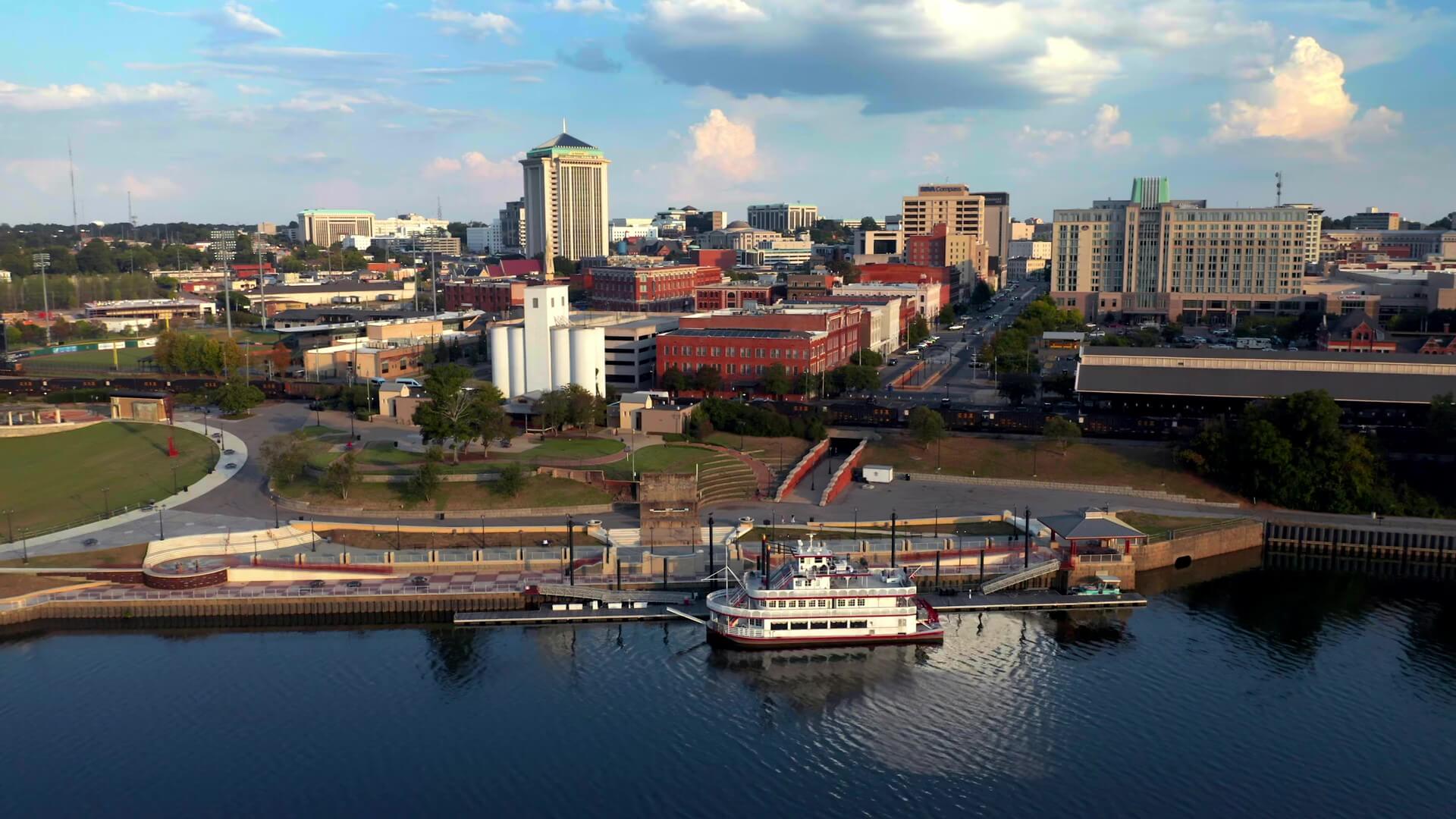 Principal
Ted Meadows
Montgomery, AL
About Ted
After graduating from law school in 1991, Ted returned to his hometown of Prattville, Alabama, where he joined the general practice law firm of Howell, Sarto & Howell. In 1995, Ted moved his growing personal injury practice to Birmingham, Alabama, where he became a partner in the plaintiffs' litigation firm of Davenport, Lavette & Meadows, P.C.
In 2001, Ted accepted an of counsel position at Beasley Allen. He became a principal at Beasley Allen in 2002. Since then, he's amassed verdicts and settlements totaling in excess of $1.4 billion.
Background
Ted is married to the former Carla Musgrove of Eufaula, Alabama. They have two grown children, Nathan and Amanda, and a grandson, Jaxton.
Ted is a triathlete, having competed in numerous endurance events, including Ironman Florida, Escape from Alcatraz, Marine Corps Marathon and Ironman Augusta 70.3 (where he twice qualified for the USA Triathlon Age Group National Championships).
Notable Cases
Talcum Powder Litigation
Ted started working on Baby Powder cases in 2013 and continues to lead the charge in cases where talcum powder caused ovarian cancer. No lawyer in the country has been co-lead counsel in more Baby Powder trials. It all started when he helped lead a trial team to a $72 million jury verdict against Johnson & Johnson on Feb. 22, 2016. After a month-long trial, a jury in City of St. Louis, Missouri, Circuit Court found Johnson & Johnson liable for injuries and death resulting from the use of its talc-containing products such as Johnson's Baby Powder and Shower to Shower body powder for feminine hygiene.
$72 Million Verdict
The jury awarded the family of Plaintiff Jacqueline Fox $72 million after agreeing the products contributed to the development of her ovarian cancer. The verdict included $10 million in actual damages and $62 million in punitive damages. The jury found Johnson & Johnson liable for failure to warn, negligence and conspiracy. This verdict was the first of its kind and resulted in Ted and the Fox trial team being selected as a finalist for the 2016 Public Justice Trial Lawyer of the Year.
$55 Million Verdict
Shortly thereafter, Ted returned to the courtroom where he helped lead another trial team to a $55 million jury verdict in May 2016 against Johnson & Johnson for ovarian cancer resulting from the use of Johnson's Baby Powder for feminine hygiene. After a month-long trial, the jury awarded Gloria Ristesund $5 million in compensatory damages and $50 million in punitive damages.
Winning on Appeal
In August 2016, Ted led a litigation team to Atlantic City, NJ, where they went through a month-long Kemp hearing in an effort to convince a Judge of the legitimacy of the science behind the claims of talc causing ovarian cancer. After that Judge ruled against them, Ted and the team appealed to the New Jersey Court of Appeals. After four years of appellate fights, that court reversed the trial judge and specifically found more than enough evidence to support claims that Baby Powder causes ovarian cancer. This paved the way for thousands of ovarian cancer victims to pursue their cases in the New Jersey State Court.
$70 Million Verdict
In October 2016, Ted helped lead another trial team to a $70 million jury verdict against Johnson & Johnson and Imerys Talc America for ovarian cancer resulting from the use of Johnson & Johnson's Baby Powder for feminine hygiene. After a month-long trial, the jury awarded Deborah Giannecchini $2.5 million in compensatory damages and $67.5 million in punitive damages. This was the first-ever Baby Powder verdict against the mining company, Imerys. Ted now represents Giannecchini as a Vice-Chair of the Imerys Talc America Bankruptcy Tort Claimants Committee (He also represents another Beasley Allen client who serves as co-chair of the tort claimants committee in the Johnson & Johnson (LTL) bankruptcy).
The three 2016 verdicts prompted J&J body powder competitors to start putting ovarian cancer warnings on the labels of their body powder bottles starting in 2017. This is something that Ted and the talc trial team are most proud of as it resulted in increased public awareness of the cancer risks and therefore will likely save many lives for decades to come.
The Ristesund and Giannecchini verdicts prompted Public Justice to nominate Ted and the trial teams for the 2017 Trial Lawyer of the Year Award.
Two Verdicts over $100 Million
In May 2017, Ted helped lead a trial team to a $110.4 million jury verdict against J&J and Imerys. After a month-long trial, the jury awarded Lois Slemp $5.4 million in compensatory damages and $105 million in punitive damages.
Shortly thereafter, he took a small group of Beasley Allen talc lawyers and staff to Los Angeles, where they spent 2 months consulting, conducting a mock trial, and otherwise helping to lead another talc trial team through a Sargon pretrial hearing and to a $417 million verdict on behalf of Eva Echeverria in August 2017.
Fighting for Change
All of Ted's early work in the talc litigation set the stage for Beasley Allen to be chosen by a federal court as co-lead counsel in the talc/ovarian cancer MDL, and it paved the way for other law firms to have an opportunity to try and win blockbuster verdicts for ovarian cancer victims. Since then, Ted has continued to work tirelessly to bring about compensation for his talc clients and safety changes in the cosmetic industry. In addition to getting many more talc cases set for trial, he has led teams of lawyers, experts and clients to Washington D.C. to testify before Congress in hopes of better cosmetic consumer protection laws, and before the Food & Drug Administration for better industry testing of cosmetics. All these efforts combined to force Johnson & Johnson to announce on May 19, 2020, that they would cease selling talc-based Baby Powder in the United States and Canada. In 2022, J&J announced they would cease selling it throughout the world. It can truly be said that Beasley Allen and our clients have brought about change that will save thousands of lives in the future.
Hormone Replacement Therapy Litigation
Ted was co-lead counsel in December 2011 when a Philadelphia, Pa., jury awarded $72.6 million to three plaintiffs in a Hormone Replacement Therapy (HRT) case. After hearing three weeks of testimony regarding the link between those drugs and breast cancer, the jury determined that the HRT drugs, Premarin, Provera and Prempro caused the plaintiffs' breast cancers and set the value of actual compensatory damages in the case against Wyeth Pharmaceuticals.
The verdict was delivered in a reverse-bifurcated trial. This type of trial procedure is one in which the jury first determines causation and damages before determining liability. The liability phase of the trial, which was to determine if punitive damages are due, was set to proceed, but Wyeth agreed to settle the case the day before. The terms and amounts are confidential. However, the settlement not only brought an end to the trial; it was also a watershed moment for the Hormone Therapy litigation.
After an early string of victories in the litigation, in 2009, Pfizer purchased Wyeth, the principal target and the maker of Premarin and Prempro. With Pfizer's purchase, a new litigation strategy emerged and a series of defense victories piled up. The main strategy: beat the Plaintiffs on causation in a reverse-bifurcated setting, if possible. This victory and the resulting settlement represented a stunning turn-around in the litigation that catapulted the breast cancer litigation towards resolution and put Beasley Allen in a position to be appointed lead counsel in a $200 million California class action on behalf of duped Prempro purchasers. It also resulted in Ted and the trial team being nominated for the 2012 Public Justice Foundation Trial Lawyer of the Year.
Other Litigation
Ted was the principal Beasley Allen attorney who handled the Lotronex, Meridia, Guidant Ancure Stent, Sulzer, Smith & Nephew Knee Replacement litigations, and Hormone Therapy (Prempro) litigations. He was selected to serve on the Plaintiffs' Steering Committee in the Prempro Multidistrict Litigation.
Awards and Recognitions
In 2016, Public Justice named Ted a finalist in their annual "Trial Lawyer of the Year" Award for his work in the talcum powder litigation. He was nominated for the same award in 2012 and 2017. His talc verdicts were listed in the National Law Journal's Top 100 Verdicts of 2016 and 2017, and his hormone replacement therapy verdict was selected by the National Law Journal as No. 30 on its list of Top 100 Verdicts of 2011.
Ted received the 2009 and 2017 awards for Beasley Allen Mass Torts Lawyer of the Year, and in 2012 and 2016, he was selected as Beasley Allen Litigator of the Year. Ted has been selected for inclusion in the annual Midsouth Super Lawyer list since 2014 and has been named to the LawDragon 500 Leading Plaintiff Consumer Lawyers, which is the 500 best attorneys across the nation in this category.
For their work on the Echeverria case, Ted and the talc team received recognition by the National Trial Lawyers Association as the Top Trial Team of the Year.
For their work in the Giannecchini and Slemp trials, the Beasley Allen talc team landed the firm among Law360's Product Liability Groups of the Year.
Ted received the Alabama State Bar Continuing Legal Education Award in recognition of efforts to continue and enhance professional competence. He has been recognized as an "advocate" by the National College of Advocacy.
Publicity
Ted is a frequent speaker on mass tort issues. He was also co-chair of the Harris Martin Talcum Powder Ovarian Cancer Litigation Conferences held in Charleston, South Carolina in 2016 and 2019, California in 2016 and 2017, and Miami in 2017 and 2018.
He has been a guest speaker at National Lawyer Conventions held in Montgomery, Philadelphia, New Orleans, Miami, Key West, Aspen, Charleston, Boca Raton, Los Angeles, San Francisco, Boston, Cancun, Atlanta, Las Vegas, San Diego and Puerto Rico, and at an American Bar Association Pharmaceutical and Medical Device Continuing Education event. Ted has spoken at the Mississippi Judicial College on the subject of electronic discovery. He has spoken regarding Hormone Therapy (Prempro) litigation in a conference sponsored by the American Association for Justice.
Ted has been interviewed by Legal Talk Network regarding the latest in the Vioxx (2006) and Hormone Therapy (2012) litigations. He is mentioned in the 2007 through 2010 editions of The Legal 500, a book carrying independent editorial commentary on the leading law firms in the United States.
Ted has been quoted in publications such as The American Lawyer, The National Law Journal, FairWarning.org, Law360 and The Trial Lawyer. Ted has appeared on CBS This Morning and The CBS Evening News to discuss the $55 million talc/ovarian cancer verdict, and on the CBS Evening News to discuss the 2018 Reuters article regarding asbestos in Baby Powder.
Community Involvement
Ted and his wife are members of the River Region United Way Tocqueville Society which advances the common good by creating opportunities for a better life for all. They are also involved in similar efforts to advance the common good through churches and other charitable groups, both locally and worldwide.
Our Hair Relaxer Litigation Team monitors Georgia cases as they survive motions to dismiss. The…