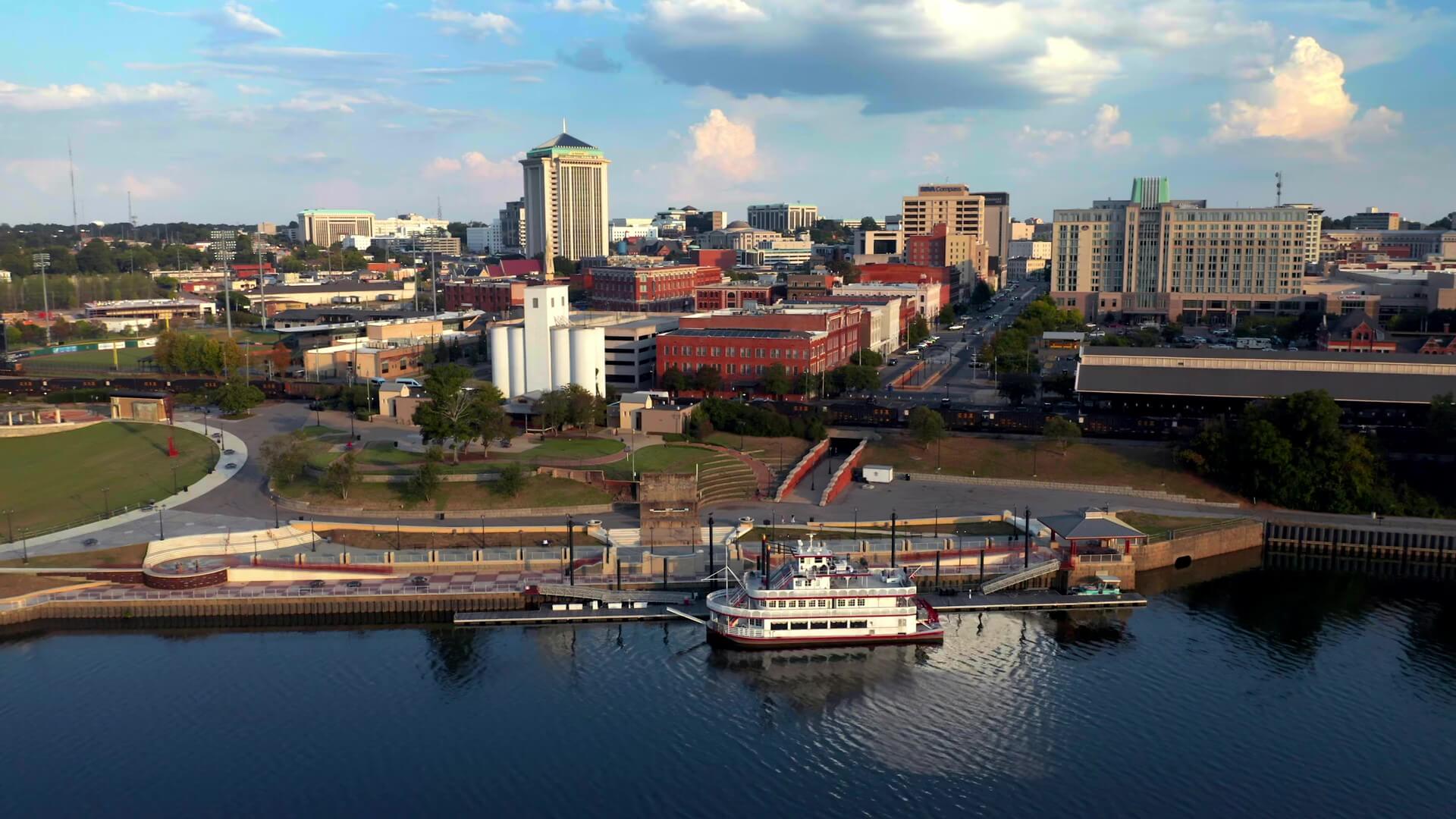 Principal, Toxic Torts Section Head
Rhon Jones
Montgomery, AL
About Rhon
Rhon heads up the firm's Toxic Torts Section and oversees nursing home abuse and neglect cases. He is one of the top environmental attorneys for plaintiffs in the country.
His verdicts and settlements while at Beasley Allen are estimated at $3 billion, and total recovery for all cases he has worked on exceeds $30 billion. He is on the cutting edge for representing governments and water systems for various forms of environmental harm and has handled environmental or toxic exposure cases in at least 15 different states.
Most recently, Rhon has taken on the issue of seeking justice for those harmed by the nation's opioid epidemic.
Background
After obtaining his B.A. from Auburn University and his J.D. from the University of Alabama, Rhon served as a law clerk for U.S. District Judge Robert Varner and later began trial practice in Birmingham, Alabama, with the law firm of Starnes & Atchison. Rhon joined Beasley Allen in 1994 and now manages the Toxic Torts Section.
Notable Cases
Rhon is currently representing the State of Alabama and the State of Georgia in opioid litigation. Previously, he served on the Plaintiffs' Steering Committee (PSC) for the BP Deepwater Horizon MDL, as well as class counsel in the economic and property class settlement against BP. He helped negotiate the method by which all business claims have been paid in the economic class settlement, which has paid out more than $10 billion to date.
Rhon was also involved in the $18.5 billion agreement to settle federal, state and local government claims against BP, which resulted in more than $2 billion for Alabama. He represented the State of Alabama as private counsel in the BP litigation and was appointed a deputy attorney general for the state of Alabama in that case.
His experience is goes far beyond Opioid and BP litigation, as historic and groundbreaking as that has been. Rhon has:
Represented plaintiffs damaged by a massive coal ash spill that decimated the area around the Tennessee Valley Authority's Kingston, Tennessee Fossil Plant, resulting in a $27.8 million settlement agreement.
Obtained a $700 million settlement for thousands of Alabama PCB contamination victims, the largest environmental settlement in the country at the time.
Resolved a class action involving groundwater contamination against a large industrial company in Alabama.
Secured a $20 million-plus verdict and other settlements over carbon black pollution in Alabama and Oklahoma.
Successfully resolved a class action regarding contaminated drinking water in New Jersey.
Led plaintiff's trial counsel in jury verdict of more than $11 million.
Helped secure a $2 million jury verdict as trial counsel.
Led plaintiff's counsel in arbitration award of $1.9 million.
Helped secure a $1.7 million verdict as trial counsel.
Professional Associations
Rhon is the former past president of the Montgomery County Bar Association. He has also received a Certificate of Recognition from the Alabama State Bar in tribute to his nomination for the Alabama State Bar Pro Bono Award.
He remains active in the American Association for Justice, where he has chaired or co-chaired multiple litigation groups and is currently an officer of the Section on Toxic, Environmental and Pharmaceutical Torts. He is also a member of the National Trial Lawyers Association, the Southern Trial Lawyers Association and the Federal Bar Association.
Additionally, he has served as an adjunct professor at the University of Alabama School of Law and the Faulkner University's Thomas Goode Jones School of Law.
Awards and Recognitions
Rhon holds an AV Rating from Martindale Hubbell, has been named to the LawDragon 500 Leading Plaintiff Consumer Lawyers–the 500 best attorneys across the nation in this category–and consistently been selected to Alabama's Midsouth Super Lawyers since 2008.
He has regularly been selected for inclusion on the Best Lawyers in America list and was selected as the 2022 "Lawyer of the Year" for Litigation in Environmental in Montgomery. In a recent Alabama listing of Super Lawyers for environmental practice, Rhon was the only lawyer listed that exclusively represents plaintiffs.
Rhon also received Beasley Allen's Litigator of the Year Award in 2011 and 2016.
Publicity
Rhon is a regular speaker at national, regional and state seminars on various subjects for both plaintiff and defense counsel and has authored more than 30 articles and papers for publication.
BP Oil Spill & Gulf Coast Litigation
2010
The Gulf Coast Disaster: Representing the Plaintiffs – Individuals to Institutions- Rhon spoke on Forecasting the Damage from the Gulf Oil Spill.
Oil in the Gulf-Litigation and Insurance Coverage– He addressed the topic "Filing Claims Against BP vs. Filing a Claim with the Oil Spill Liability Trust Fund."

HB Litigation conference, Atlanta, Georgia, June 24, 2010.

Gulf Coast Oil Spill Litigation Group– Rhon addressed "Governmental Claims from AGs to Parish Presidents."

American Association for Justice, Vancouver, British Columbia, July 14, 2010.

Deepwater Horizon: Legal Challenges & Environmental Consequences– Rhon addressed the topic "Private Recovery Litigation."

Environmental Law Section of the Alabama State Bar, Environmental Law Section of the Louisiana State Bar Association, and the Section on Natural Resources, Energy and Environmental Law of the Mississippi State Bar. Biloxi, Mississippi, July 30, 2010.

Oil in the Gulf – Litigation and Insurance Coverage– Rhon was invited to participate in a panel discussion on "The Oil Spill and Related Health Impacts on the General Population and Workers."

HB Litigation Conference, Miami, November 4, 2010.

The Deepwater Horizon Oil Spill Disaster– Rhon spoke on "The Oil Spill MDL Process – An Update."

Mobile Bar Association, Mobile, Alabama, November 12, 2010.

15th Annual CLE by the Hour– Rhon spoke on "BP MDL Litigation."

Samford University, Cumberland School of Law, Birmingham, Alabama, December 29, 2010.
2011
American Association for Justice 2011 Winter Meeting– Rhon presented remarks on the topic "Update on State/Government Claims" related to the Deepwater Horizon oil spill disaster.

Feb. 5-9, 2011, in Miami.

Rhon was invited to speak on the topic "Causation Issues under the Oil Protection Act"

ABA Section of Litigation and Criminal Justice Joint Annual Conference, April 15, 2011, Miami Beach, Florida.

Alabama, Louisiana and Mississippi Environmental Law Program – Rhon spoke on the topic "BP Oil Spill Update."

June 17, 2011, Sandestin, Florida

American Association for Justice Annual Meeting – Rhon spoke to the Gulf Coast Oil Spill Litigation Group on environmental impacts of the BP oil spill disaster.

New York City, July 10, 2011

Rhon participated in a panel discussion on "Deepwater Horizon Disaster – One Year Later."

Alabama State Bar Annual Meeting, Point Clear, Alabama, July 15, 2011.

State Bar of Georgia, Toxic Torts Seminar – Rhon spoke on the BP Oil Spill Litigation.

Atlanta, September 30, 2011
2012-2015
Rhon was invited to speak at the Alabama Travel Council Annual Meeting at the Alabama Governor's Conference on Tourism regarding the BP Oil Spill settlement.

Point Clear, Alabama, August 19, 2012.

Rhon spoke at the BP Economic & Property Damages Settlement Class Seminar.
Rhon was a featured speaker at the 2014 Business Law seminar where he presented an update on the BP Oil Spill litigation.

Presented by CLE Alabama, Oct 10, 2014, Harbert Center, Birmingham, Alabama.

Rhon was a featured speaker at the AAJ Education's Plaintiff-Only Hot Topics and Trends in Litigation Seminar. He spoke on the topic Lessons Learned from the BP Oil Spill.

Charleston, South Carolina, Dec. 2-3, 2014.

AAJ Annual Convention 2015– Rhon provided a BP Oil Spill Update and served as event faculty.
Other Speaking Events
Rhon spoke at the 2014 Trial Skills seminar for CLE Alabama on the topic of Closing Arguments.
AAJ Annual Convention2017 – Rhon spoke to the Mediation for Mass Torts group regarding Mediation of Mass Torts Cases from the Plaintiffs' Perspective and to the Mass Torts Round Table regarding benzene exposure and e-cigarette explosions

July 23-24, 2017, Boston, Massachusetts.

Rhon was invited to speak at the CLE Alabama Damages Seminar.

September 21, 2012, Birmingham, Alabama.

Chemical Products and Toxic Torts: From Crisis to Mass Litigation; Starting Smart and Finishing Strong– Rhon was invited to participate on a panel discussion on "Jury Themes and Effective Communication."

American Bar Association, Houston, October 8, 2010.
Community Involvement
Rhon is passionate about the arts and helping those vulnerable and in need. He serves on the Board of the Directors for Montgomery Museum of Fine Arts, and on the Board of the Montgomery Area Business Committee for the Arts. He is also an Advisory Board Member and strong supporter of the Family Sunshine Center, whose mission is to prevent domestic abuse.
He is also a former member of the Board of Directors of the Janice Capilouto Center for the Deaf, which fills needs for the hearing impaired. His wife is a Board member of Faith Radio in Montgomery and he actively supports that ministry and many others in the Montgomery area.
He is a deacon at First Baptist Church of Montgomery, where he teaches Sunday school, facilitates a men's bible study and has made multiple mission trips to India.
The Department of the Navy has released (and modified) a public guidance document explaining the…
BP Oil Spill Economic & Property Damages Settlement Class Seminar by presented by Rhon Jones.
"Causation Issues Under the Oil Pollution Act" by Rhon Jones. Attorney Paper
"Counseling Government Entities in the BP Oil Spill Disaster.pdf" by Rhon Jones. Converted Slideshow (PDF)
"Understanding the Known Statistics of Disaster Damage and How They Apply in Forecasting the Damage…
"The Poffenbarger Decision" by Rhon Jones. Scan; AAJ Journal | Summer 2009
"Resolving a Toxic Tort" by Rhon Jones. Attorney Paper